LED Light Therapy
LED Light Therapy
Low level light therapy can initiate and promote cellular processes in the skin and underlying tissue.
Regeneration using light at different wavelengths has been shown to accelerate wound healing, treat active acne  and deliver pleasing results as a non-invasive approach to facial rejuvenation.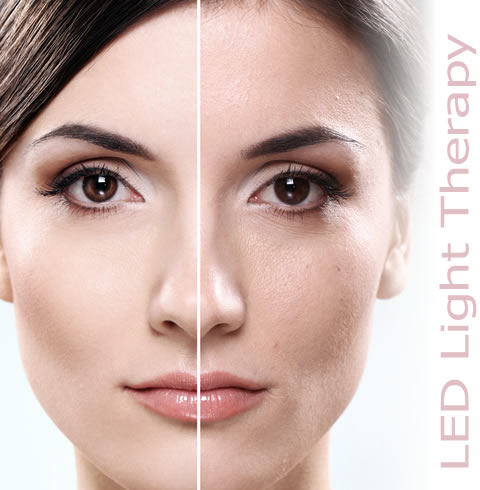 What is LED Light Therapy?
LED is non-invasive with no downtime so you walk out looking and feeling great. You will see immediate results – after the first treatment the skin feels tighter, more alive due to the increased circulation, oxygenation and moisture. You will also notice a softening of the lines and folds, an increase of inner skin firmness as a result and healthy glow and skin rejuvenation.
LED (light emitting diode) technology, a scientific process that uses wavelengths in the visible light spectrum to send calibrated packets of light into the dermal layer, setting off a frenzy of cellular activity to produce softer, more youthful looking skin.
Promotes collagen and elastin production and oxygenation for up to 180 days after treatment
Increases cellular activity, calming and soothing
Anti-inflammatory, strengthens capillary walls and Rosacea
Energizing and rejuvenating skin
Promotes intercellular communication
 
Benefits of LED light therapy
Non invasive procedure.
No downtime
No scarring associated with LED light therapy.
Painless procedure is comfortable and relaxing.
No known side effects
Purifying antibacterial, blemished and oily skin
What conditions can be treated with LED Light Therapy?
Purifying, antibacterial
Blemished and oily skin, recent acne scars
Redness and flushing
Brown spots
Skin texture and firmness
Fine lines and wrinkles
Large pores
Dark under eye circles
Restores youth to mature skin
Cellular rejuvenation, collagen and ATP production
Anti-inflammatory, Calms red capillaries & Rosacea
Calms skin inflamed by blemishes
Intercellular communication, reduces swelling, calms irritation
Calming and soothing
Alleviates acne and oily skin
Pigmentation
Increases cellular activity
Lymphatic system, muscle toning, anti-aging
For more information about LED Light Therapy, please call us on 07 3856 1110.